FireFox Drills more Shallow High-Grade Gold at Mustajärvi East Target in Finland Including 13.05m at 15.04 g/t Gold and 12.44m at 14.34 g/t Gold
SODANKYLÄ, FINLAND – (February 15, 2023) – FireFox Gold Corp. (TSX.V: FFOX)(OTCQB: FFOXF)("FireFox" or the "Company") is pleased to report the remaining results of the successful fall 2022 core drilling campaign at the Company's 100%-held Mustajärvi Gold Project in Lapland, Finland. Drill holes 22MJ024 and 22MJ025 at the East Target both encountered significant near-surface high-grade gold and extended the East Target mineralization to the northwest, southeast, and downdip. These holes were drilled along two different sections separated by 25m (See Figure 1). Drill hole 22MJ024 further delineated a western lobe of shallow high-grade gold first discovered in 22MJ022 (Company news release dated January 18, 2023). Whereas 22MJ025 further defined the eastern lobe of surface high grade defined by 22MJ006 (Company news release dated September 6, 2022).
Highlights of selected intervals are shown below, while Table 1 includes all significant intercepts:
22MJ024:



13.05m at 15.04

g/t Au

from 29.6m depth

**

, including

1.2m at 35.23 g/t Au

from 30.6m, and

1.8m at 53.66 g/t Au

from 34.6m, including 0.8m at 100.43 g/t Au, and

1.05m at 39.17 g/t Au

from 40.0m;

3.4m at 50.91 g/t Au

from 91.8m depth, including

1.0m at 170.67 g/t Au

from 94.2m;
22MJ025:



12.55m at 14.34 g/t Au

from 14.3m depth, including

1

.0m at 64.67 g/t Au

from 14.3m, and

2

.0m at 49.78 g/t Au

from 22.8m;

1.0m at 14.53 g/t Au from 73.8m depth;

1.2m at 8.75 g/t Au from 251.0m depth ;
FireFox's CEO, Carl Löfberg, commented, "Our drill program in late 2022 has provided the best evidence yet that Mustajärvi hosts replacement style gold mineralization with the potential for bulk tonnage at excellent grades. These most recent holes extend the outstanding results from 22MJ006 and 22MJ021 for at least 20m to the southwest and 15m to the north, while also revealing narrower high-grade structures with vertical continuity. There is plenty of room to grow the East Target in all directions, and our structural model strongly suggests that there is more of this style of mineralization to be found along the +2km strike of the system. We expect to be drilling again at Mustajärvi by April, and we intend to excavate trenches during the summer for initial metallurgical test work."
These two holes were part of a six-hole program (977.1 metres) designed to test a new near-surface high-grade gold zone at the East Target first defined by 22MJ006 and 22MJ018. The first three of the holes also returned high-grade gold assays (see Company news release dated January 18, 2023). These results are significant because they confirm and expand a volume of near-surface replacement style mineralization with greater continuity than previously realized. The East Target also includes narrow high-grade structures oriented in at least two directions that carry mineralization to greater depths and may be contiguous with the thicker replacement zones.
The final hole of the program, 22MJ026, was at the Northeast target, the site of numerous high-grade intercepts in 2021 and 2022. It was directed to the northeast, orthogonal to most of the previous drilling in that area, to test for the northwest trending cross structures now known to be important at the East Target. The hole encountered several lower grade intercepts that are reported in Table 1.
The FireFox team continues to advance its structural model for Mustajärvi, and the work suggests numerous drill targets based on possible extensions to the northwest, southwest, and south. Multielement analytical data is also still pending for the drilling from late 2022.
Figure 1 - Mustajärvi Location Map with Recent Drilling over Ground Magnetics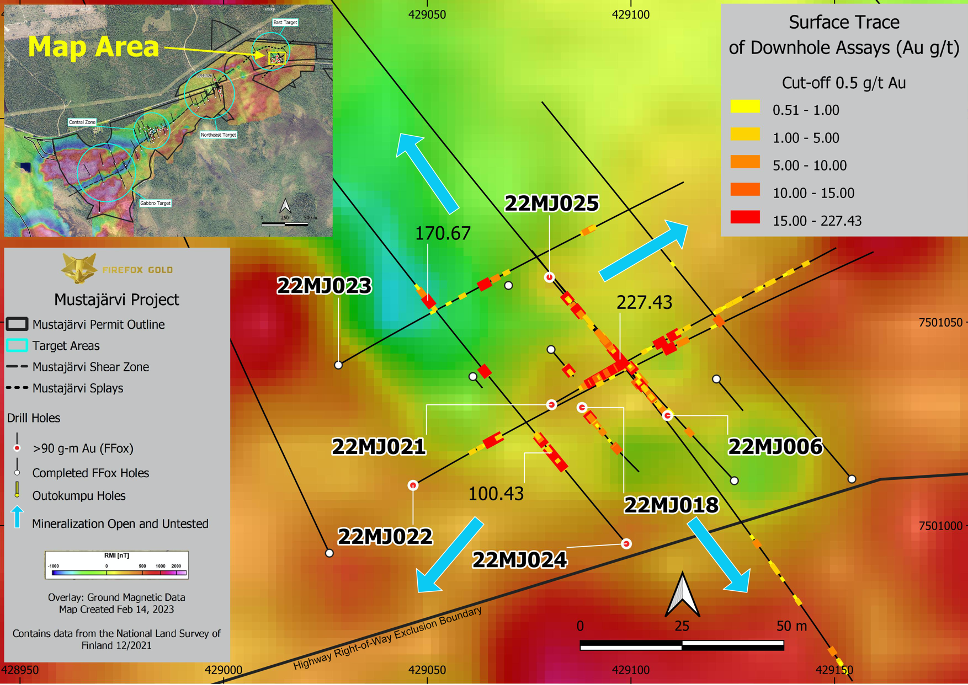 Mustajärvi Project and Drill Program Details
The Mustajärvi Project lies along the highway between the cities of Kittilä and Sodankylä, approximately 17 kilometres east of Kittilä. The property straddles the Mustajärvi Shear Zone (MSZ), a major right-lateral shear zone that has associated second and third-order structures which further dissect the project into separate structural zones. The Sodankylä Group rocks, which are primarily to the north of the shear zone in the footwall, include metamorphosed sedimentary and volcaniclastic rocks. Geophysics and drilling have identified an extensive corridor of albite – sericite alteration in the footwall along more than two kilometres of the structure. The project remains at an early stage as FireFox and predecessor companies have drilled approximately 12,600 metres to date.
FireFox's structural model identified repetitive dilatant zones along the MSZ where vein swarms, replacement style, and higher-grade gold are concentrated. Three main areas of gold mineralization have been identified along a 2.1-kilometre segment of the MSZ, namely the Central Zone, the Northeast Target, and the East Target (Figure 2). The Central Zone and East Target have clear expressions of significant grade and thickness of gold mineralization at surface, whereas the gold at the Northeast Target is concentrated between 100 and 150 metres below surface. Folding and extensive faulting are in evidence, suggesting the potential for locating much more gold around and between these three widely spaced targets.
Figure 2- Long Section View of Gold Intercepts with Surface Projection and Magnetics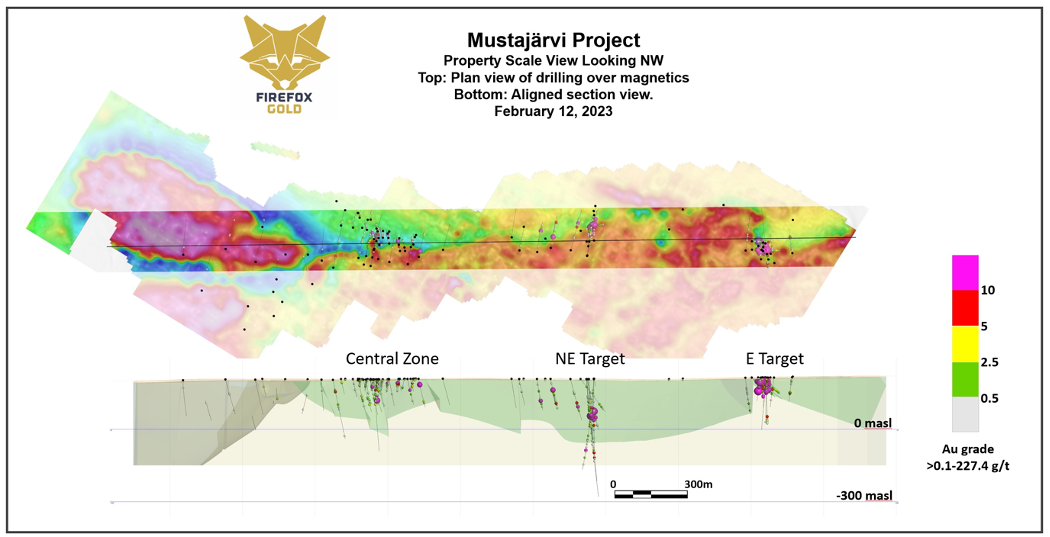 During 2022, FireFox completed a total of 25 diamond drill holes for 3,904 metres at Mustajärvi, testing the Northeast Target, the East Target, the Gabbro Target and the Central Zone. The final program of the year included six holes totalling 977 metres, three of those holes are reported herein.
The East Target mineralization exhibits extensive albite – sericite alteration, as is typical along the MSZ, but iron oxide and iron carbonate veining are more common in this eastern part of Mustajärvi. The drill logs from the recent drilling also include increased reports of mafic rocks crosscutting and interbedded with the metasediments and tuffaceous rocks that host most of the Mustajärvi mineralization. The mafic rocks likely included mafic and ultramafic volcanic rocks, as well as crosscutting mafic dikes. Gold continues to be closely correlated with the occurrence of pyrite. Similar to previously reported holes from the East Target, the near-surface gold mineralization from the most recent holes is associated with fractures and impregnation of (partially oxidized) pyrite along fractures, forming blebs, nests, disseminated, semi-massive and massive pyrite mineralization within the host rock. The thicker intervals reported now in several drill holes present strong evidence of hydrothermal replacement of the host rock with quartz-sericite-pyrite + iron oxide. Pyrite can be seen to be replacing laminations and other sedimentary textures, particularly in the shallow portions of the East Target. In the long section vie (oriented east-northeast), the replacement style of mineralization can be seen coming to surface beneath thin glacial sediments. Its shape is controlled in party by folded bedding (foliations) in the metasedimentary rocks (Figure 3).
Figure 3 - Long Section through Mustajärvi East Target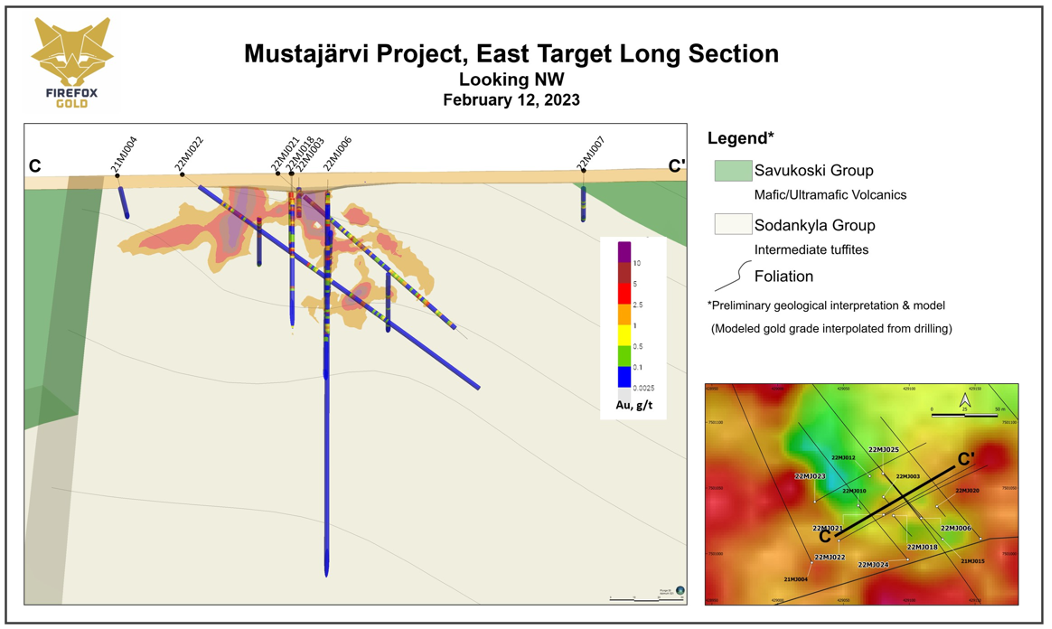 The deeper mineralized intervals include the more typical quartz-carbonate-tourmaline-pyrite (QCTP) veins that are commonly seen at Mustajärvi. The vein and replacement types of mineralization may be related to separate events within a complex deformation history. There are at least two major directions of controlling structure on the Mustajärvi system, east-northeast striking (slightly oblique to the MSZ) and north-northwest striking (perpendicular to the MSZ). The structural system at the East target is interpreted as a multi-phase dextral strike-slip dominated fault system with hydrothermal replacement centred on dilational jogs developed in folded stratigraphy. The system has subsequently undergone several episodes of brittle reactivation. The latest work by the FireFox team using oriented drill core has signalled preliminary indications of fold axis control on the best-developed thicker high-grade zones.
While the multielement data is incomplete, the geochemistry of the replacement and vein styles of mineralization appears to be very similar – dominated by an association with bismuth, tellurium, molybdenum, cobalt, and nickel and low in arsenic and copper.
Hole 22MJ024 was drilled with an azimuth of 320° designed to test the western extent of the near-surface high-grade gold mineralization identified in drill holes 22MJ006, 22MJ018, and 22MJ021. It also tested for the southern and downdip extension of the intercepts reported in 22MJ022. The hole was collared approximately 33 metres southeast of 22MJ006 on a section line 25 metres to the west. As with other holes in the area, the collar location was in thin glacial sediments overlying intensely altered intermediate tuffites (See Figure 4).
Drill hole 22MJ024 intersected four gold-mineralized intervals (>0.5 g/t gold) which included both vein and replacement styles of mineralization, starting at a depth of 29.6m downhole and continuing to a depth of 100.8m (Table 1). The extensive mineralization encountered in this hole marks a significant westward extension to the East Target mineral system, and the deeper intercepts to the north bode well for the untested shallow magnetic anomaly to the north of 22MJ023.
The near-surface mineralization was consistent with that seen in earlier holes, replacement style quartz-pyrite-sericite alteration in pervasively albitized metasedimentary or tuffaceous rocks. The zone of 13.05m averaging 15.04 g/t Au starting at 29.6 m was remarkably consistent with the similar intercepts reported in 22MJ021 and 22MJ006, approximately 30m away. It included 0.8m of core loss (22MJ021 included 1.7m of lost core). The upper mineralized zone also cut what appears to be a narrow mafic dike that was only weakly mineralized with gold but flanked by strong gold grades.
Importantly, there was also deeper high-grade gold mineralization in the hole, such as 3.4m of 50.91 g/t Au, including 1.0m at 170.67 g/t Au from 91.8m downhole depth. This deeper bonanza zone confirms the continuation of the high-grade system mineralization towards the northwest, and it may be on strike and related to similar intercepts in 22MJ006 and 22MJ022. There were numerous other narrow intercepts of gold mineralization at depth that remain open.
Figure 4 - Mustajärvi East Target Cross Section A-A' Looking Southwest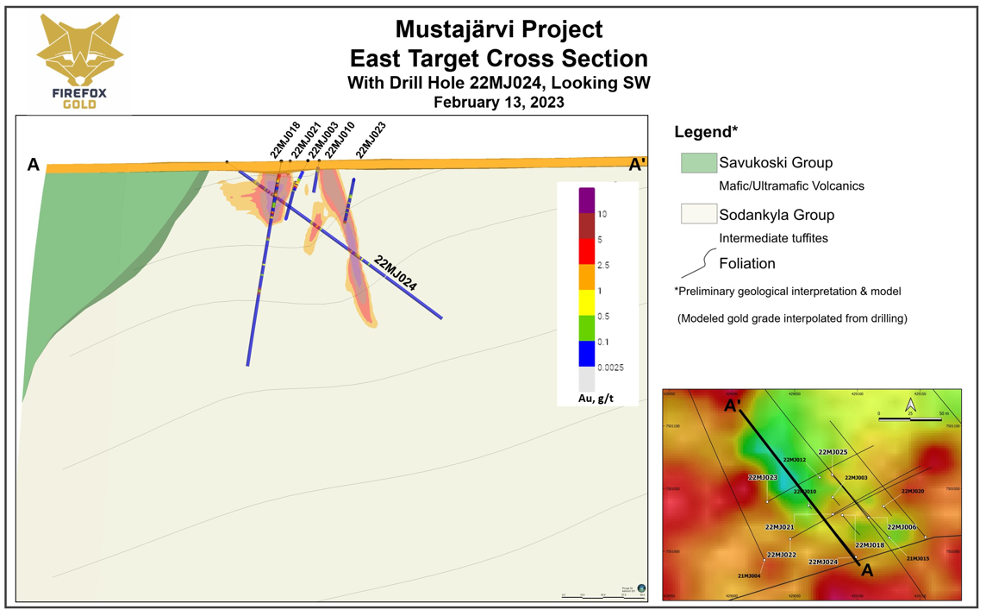 Drill hole 22MJ025 was drilled with an azimuth of 140° towards the interpreted contact between Sodankylä group metasedimentary rocks and the Savukoski group mafic-ultramafic volcanic unit. It also formed a scissor relationship with drill hole 22MJ006, which contained very high-grade surface mineralization, so that it tested the northern extension and down dip of that interval. It was collared well to the northwest of other drilling on the section in thin glacial sediments overlying intensely altered intermediate tuffites. Encountering both thick shallow gold mineralization and deeper narrow high-grade, this hole was successful in extending the known mineral system to the northwest and the southeast. The best interval began at only 14.3m downhole and averaged 14.34 g/t gold over 12.55 metres, including narrow intervals of much higher grade. This interval was also associated with the quartz-pyrite-sericite replacement within albitized rocks (See Figure 5).
In total, this drill hole passed through 15 intervals containing >0.5 g/t Au, starting from 14.3 metres downhole (Table 1). The narrow higher-grade intercepts are connected across multiple holes, and appear to be linked to shallower replacement style gold. At 177.6 metres downhole, gold mineralization was intersected just beneath a long interval of strongly mylonitized and intensively altered metasediments, interbedded with mafic volcanics. Here the gold is associated with narrow quartz-tourmaline veining and fine-grained disseminated pyrite. FireFox geologists believe that the mylonite zones may indicate proximity to a sheared contact zone between the siliciclastic metasediments and ultramafic volcanic rocks. Even though the frequency of narrow gold intercepts was increasing with depth, the drill hole did not yet reach the contact. The last mineralized interval in this hole was sampled from 3.7 metres above the end of the drill hole, starting at a depth of 263 metres, and returned 2.0m averaging 1.14 g/t Au. Mineralization remains open to depth.
Figure 5- Mustajärvi East Target Cross Section B-B' Looking Southwest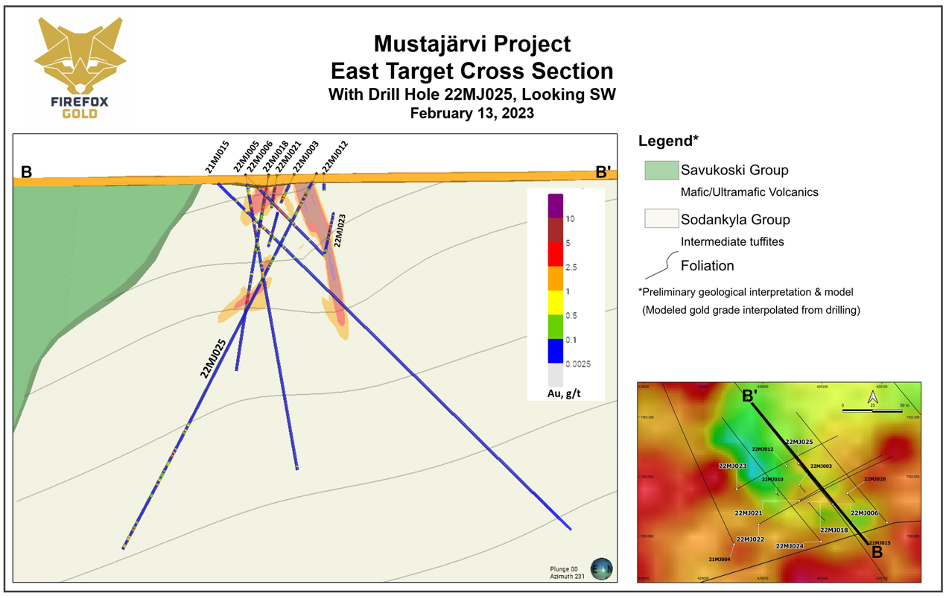 Hole 22MJ026 was drilled at the Northeast Target, approximately 750 metres southwest from the recent East Target drilling. The hole was designed to test the cross structures previously noted during geologic logging of the drill core. These cross structures have proven to be significant at the East Target. It intersected intensively altered intermediate tuffites with interlayers of mafic volcanics, which might be indicating proximity to a major geological contact. It did not penetrate significant grade thickness of high-grade gold, but in total, drill hole 22MJ026 intersected three narrow intervals that assayed above 0.5 g/t Au (Table 1).
Table 1: Significant Drill Intercepts in Drillholes 22MJ024 - 22MJ026 Cut-off Grade 0.5 g/t Au
Drill Hole
From (m)
To (m)
Interval* (m)
Au Grade (g/t)
Grade Thickness (gram – metres)
22MJ024
29.6
42.65
13.05
15.04**
392.47
including
29.6
37.2
7.6
19.24
and including
30.6
31.8
1.2
35.23
and including
34.6
37.2
2.6
37.66
and including
36.4
37.2
0.8
100.43
including
40.0
42.65
2.65
18.84
and including
40.0
41.05
1.05
39.17
66.0
67.85
1.85
8.67
including
67.15
67.85
0.7
22.0
91.8
95.2
3.4
50.91
including
94.2
95.2
1.0
170.67
97.65
100.8
3.15
2.26
including
97.65
98.8
1.15
5.69
22MJ025
14.3
26.85
12.55
14.34
232.98
including
14.3
15.3
1.0
64.67
including
22.8
24.8
2.0
49.78
34.2
35.2
1.0
1.93
63.0
63.85
0.85
4.19
73.8
74.8
1.0
14.53
177.60
178.6
1.0
0.69
181.0
183
2.0
4.81
194.65
194.45
0.8
0.8
197
197.9
0.9
1.52
199.85
200.85
1.0
2.75
205
206.15
1.15
0.76
216.75
217.75
1.0
0.73
219.75
220.8
1.0
1.22
251.0
252.2
1.2
8.75
257.0
260.0
3.0
0.79
263.0
265.0
2.0
1.14
22MJ026
40.8
43
2.2
1.28
9.1
130.9
133
2.1
1.71
145.55
147.1
1.55
1.73

* Drilling is believed to be perpendicular to the dip of the mineralization, however true widths are not yet known and will be confirmed with additional drilling and geologic modelling.

** Intercept includes 0.8 m of core loss. The lost interval was assigned a grade of 0.0 g/t Au for all calculations.
Table 2: Mustajärvi Q4 of 2022 Collar Information (coordinates presented in EPSG:3067).
| | | | | | | |
| --- | --- | --- | --- | --- | --- | --- |
| Drill Hole | Easting | Northing | Azimuth (°) | Plunge (°) | Final Depth (m) | Status |
| 22MJ021 | 429080.6 | 7501029.7 | 60 | 40 | 103.4 | Reported Earlier |
| 22MJ022 | 429046.5 | 7501009.9 | 60 | 35 | 151.2 | Reported Earlier |
| 22MJ023 | 429028.2 | 7501039.4 | 60 | 40 | 124.9 | Reported Earlier |
| 22MJ024 | 429098.9 | 7500995.5 | 320 | 35 | 160.5 | Reported Here |
| 22MJ025 | 429080.0 | 7501061.0 | 140 | 62 | 266.7 | Reported Here |
| 22MJ026 | 428403.0 | 7500706.0 | 40 | 50 | 170.4 | Reported Here |
Methodology & Quality Assurance
The core was transported from the rig to the Company´s core storage facility in Sodankylä, where FireFox's exploration team conducted the geological and geotechnical logging and selected the assay intervals. Assay intervals were generally 1 metre but in some circumstances were modified according to lithological boundaries and other factors. FireFox geologists maintained chain of custody and sampling procedures according to best industry practice and with due attention to quality assurance and quality control, including sampling field duplicates and insertion of certified standard and blank samples.
FireFox team members transported the samples to an ALS sample prep lab in Sodankylä. The samples were sawed then crushed to -2 mm, split and pulverized into 1kg pulps, before being shipped to the ALS facility in Rosia Montana, Romania for gold by fire assay of 50 gm aliquots with AAS finish (method Au-AA24). All samples exceeding 10.0 g/t Au were re-assayed in triplicate by fire assay of 50 gm aliquots with a gravimetric finish (method Au-GRA22).
ALS Laboratories is a leading international provider of assay and analytical data to the mining industry. All ALS geochemical hub laboratories, including the Irish facility, are accredited to ISO/IEC 17025:2017 for specific analytical procedures. The Firefox QA/QC program consists of insertion of certificated standard material and blanks inserted by Firefox into the analytical batches did not show deviations from recommended values.
Patrick Highsmith, Certified Professional Geologist (AIPG CPG # 11702) and director of the Company, is a qualified person as defined by National Instrument 43-101. Mr. Highsmith has helped prepare, reviewed, and approved the technical information in this news release.
Dr. Sven Hönig, Certified European Geologist (EFG EurGeol Title # 1789) and General Manager - Exploration of the Company, is a qualified person as defined by National Instrument 43-101. Dr. Hönig has supervised the field work reported herein and has helped to prepare and approves the technical information in this news release.
About FireFox Gold Corp.
FireFox Gold Corp is listed on the TSX Venture Stock Exchange under the ticker symbol FFOX. FireFox also trades on the OTCQB Venture Market Exchange in the US under the ticker symbol FFOXF. The Company has been exploring for gold in Finland since 2017 where it holds a huge portfolio of prospective ground.
Finland is one of the top mining investment jurisdictions in the world as indicated by its multiple top-10 rankings in recent Fraser Institute Surveys of Mining Companies. Having a strong mining law and long mining tradition, Finland remains underexplored for gold. Recent exploration results in the country have highlighted its prospectivity, and FireFox is proud to have a Finland based CEO and technical team.
For more information, please refer to the Company's website and profile on the SEDAR website at www.sedar.com.
On behalf of the Board of Directors,
"Carl Löfberg"
Chief Executive Officer
CONTACT:
FireFox Gold Corp.
Email: This email address is being protected from spambots. You need JavaScript enabled to view it.
Telephone: +1-778-244-8439
Forward Looking Statements
The information herein contains forward looking statements that are subject to a number of known and unknown risks, uncertainties and other factors that may cause actual results to differ materially from those anticipated in our forward-looking statements. Factors that could cause such differences include changes in world commodity markets, equity markets, the extent of work stoppage and economic impacts that may result from the COVID 19 virus, costs and supply of materials relevant to the mining industry, change in government and changes to regulations affecting the mining industry.
Forward-looking statements in this release may include statements regarding: the intent to conduct additional drilling; the belief as to the location of the most prospective gold targets; the location of targets for future drill programs; and the current and future work program, including the extent and nature of exploration to be conducted in 2023. Although we believe the expectations reflected in our forward-looking statements are reasonable, results may vary.
The forward-looking statements contained herein represent the expectations of FireFox as of the date of dissemination and, accordingly, are subject to change after such date. Readers should not place undue importance on forward-looking statements and should not rely upon this information as of any other date. FireFox does not undertake to update this information at any particular time except as required in accordance with applicable laws.