Seuru Gold Project
The Seuru Project includes over 50,000 hectares of exploration reservations, including some exploration permits, in the Central Lapland Greenstone Belt of northern Finland.
Studies suggest there could be as much as 30 times the currently known gold resources in the CLGB1.
The Seuru Properties include a large portion of the Kittilä Group rocks, which are the same rocks that host Agnico Eagle's Kittilä Mine (Suurikuusikko), the largest primary gold producer in Europe. The Kittilä mine property is directly adjacent to part of the Seuru group of properties.
FireFox cautions that proximity to a discovery, past-producing mine, or mineral resource, does not indicate that mineralization will occur on FireFox's property, and if mineralization does occur, that it will occur in sufficient quantity or grade that would result in an economic extraction scenario.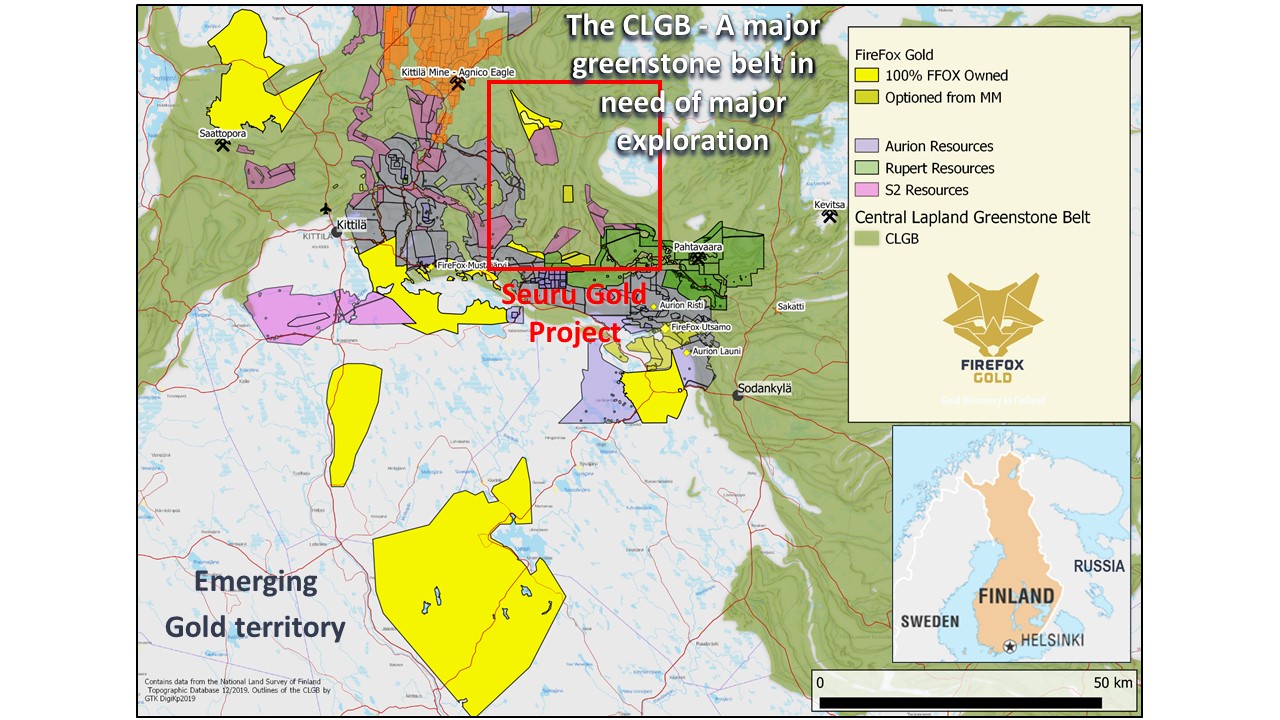 Targets
Sarvilehto: The Sarvilehto target exhibits excellent gold potential in recent studies by the GTK (2009-2010). GTK drill results from 2009 intersected up to 3.57 g/t Au over 0.45 m (U441/2009/R8)4. Micro panning of a 10kg heavy mineral sample revealed 118 gold micronuggets resulting in anomalous Au and As - a clear indication of the gold prospectivity of the area. Assays from percussion till samples (GTK & recent FireFox) indicate enrichment of pathfinder elements such as Bi and As.
For details on the program in progress please refer to the News Releases or the latest Presentation.
Location, Access and Infrastructure
The Seuru project is in Lapland, the northernmost province of Finland. The project is road accessible and the area is serviced by two local towns, Kittila and Sodankylä. Part of the land package adjoins the east side of Agnico Eagle's Kittilä Mine property, an underground gold mine and Europe's largest primary gold producer.
Ownership
The Seuru Project consists of six separate mineral exploration reservations covering 50,664 hectares. The Selkä Exploration reservation (2,267 hectares) and Selkä Exploration Permit application (471.62 hectares), as well as Kulovaara Exploration reservation (547 hectares), were staked by FireFox and are not subject to any option payments or obligations to other parties. On the remaining Seuru properties (47,850 hectares), FireFox can earn a 100% interest in the Properties by making payments of up to CAD $200,000 in cash and the issuance of 1,500,000 shares of the Company to Magnus Minerals over a three-year period, while investing CAD $1,500,000 in mineral exploration on the Properties. Magnus will retain a 1.5% NSR royalty on production from the Properties, 0.5% of which can be purchased for 1,000 troy ounces of gold on these properties.
Brief History
Despite the long Iron and Manganese-ore exploration history of the area, the promising gold potential of the area is still not well explored.
GTK performed geophysical surveys, till geochemistry, and drilling results in the Geological Survey of Finland (GTK) database indicate several target areas where structural intersections coincide with gold and trace element geochemical anomalies.
The most recent studies by Geological Survey of Finland (2009-2010) indicated gold potential in the southern part of Porkonen formation which continues through the Sarvilehto target. GTK drill cores from 2009 reached anomalous grades up to 3.57 ppm Au @ 0.45 m (U441/2009/R8)
Work Completed by Firefox to January 2020
2018-19: FireFox completed compilation of historic GTK Data, performed limited percussion geochemical till sampling and collected surface grab and heavy mineral samples.
Geology & Exploration
The Seuru Project is located within the Central Lapland Greenstone Belt ("CLGB"), a poorly-explored package of Paleoproterozoic-age mafic volcanic and sedimentary rocks which underwent three ductile compressional events around 1.79-1.92 Ga followed by one or more brittle stages.
The Seuru Project is divided into two major parts and the bedrock of the entire reservation area comprises most of the stratigraphy of CLGB. The bedrock of the eastern part of Seuru reservation around the Lauttaselka target area is comprised of mafic volcanic rocks of the Kittilä suite (2.0 Ga), felsic-intermediate volcanic rocks of Salla group (2.5-2.4 Ga), mica schists of the Sodankylä group (<2.2 Ga) and the Savukoski group graphitic schists and ultramafic volcanics (<2.05 Ga). The geology at the Lauttaselka area is favourable for orogenic gold deposits: Several faults and shears cross-cut the mafic volcanic and mafic graphitic tuff units of the Kittilä suite. Agnico Eagle Kittilä Mine lies less than 10 km away.
Bedrock in the Sarvilehto area consists of sulphide bearing rocks of Porkonen formation and mafic volcanites of Vesmajärvi and Kautoselkä formation. The most recent studies by Geological Survey of Finland (2009-2010) shows gold potential in the southern part of Porkonen formation which continues through the Sarvilehto target.